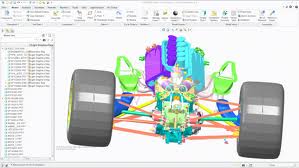 Have you had your CAD system crash from working on an assembly that is too large? Do you fire up your CAD files before you leave the office at 5PM so they will be open the next morning? It doesn't need to be that way!
Effectively and efficiently dealing with extremely large assembly structures (on the order of hundreds, thousands or hundreds of thousands of components) is an extremely important issue to certain CAD users and is probably the one remaining computational issue that will typically drive most CAD systems to their knees. In fact a quick Google search on "Solidworks large assembly management" returned a large number of hits. The first on the list has a single tip; "Don't make Freakin' Large Assemblies". This is hardly useful for the user who does need to make freakin' large assemblies!
Assuming that a user is operating in a 64-bit computer architecture, the sole issue for large assemblies is one involving computer hardware. While, it is conceivable an entire aircraft carrier could be modeled completely in its entirety, I certainly doubt any computer in the world (except those used to monitor our phone calls and analyze DNA and such) has the processing power both computationally or graphically to be able to handle such an assembly. Of course some day, because of Moore's Law, we will have computers on our desks to perform such a task. But by then, someone will want to model an entire naval battle group and we'll be back where we started with someone saying "Don't make Freakin' Large Assemblies".
The solution is simple! In any application involving vast amounts of information being able to filter that information into reasonably useful bite size chucks is crucial. Luckily, for users who really need to model an entire aircraft carrier, both Windchill and Creo Parametric offer the absolutely needed functionality to filter that information into manageable chunks.
Windchill – Large Assembly Management
Windchill's functionality allows the user to easily search for only the items they are interested in. Advanced searches provide the ability to look for any object using numerous criteria. Using table views, search results can easily be further filtered to only see the items you want. Assembly or BOM structures can be viewed in a multitude of ways; tradition indented
BOM's for example or graphical tree structures that can be expanded or collapsed as needed.
This is because Windchill "knows" about objects, their structure and relationships and performing a "where used" is simple. Because all information with the exception of the actual 3D geometry is maintained in Windchill as meta data, a lot of useful information is easily obtainable without requiring the need to know how to use Creo or other CAD system or involve the transfer of large amounts of data across a network. Furthermore the Creo View functionality allows Windchill users to easily view documents and CAD geometry. When using Creo View to examine an assembly the user chooses which items to display; again filtering the information.
Creo Parametric – Large Asssembly Management
Modeling an entire aircraft carrier in its entirety is feasibly possible today with Creo Parametric. Viewing it in its entirety is not; a seemly possible contradiction because how could you model something you could not view? The answer once again is filters.
At no time does anyone need to be able to open an entire aircraft carrier to display on the screen with all its components down to each and every rivet loaded into memory. Instead the user can easily create representations of the assembly by excluding objects such as rivets or by temporarily using a single part to represent some major subassembly. The idea is to filter the amount of detail the user is looking at and working with into a reasonably manageable chuck our current computer technology can handle. Admittedly, working with extremely large assemblies requires some rigor on the part of the user, but Creo Parametric along with Windchill has the easy to use functionality to manage and deal with large assemblies.
– Bruce Bodnyk
Bruce Bodnyk is a Mechanical Engineering Services Consultant and Instructor for MCAD software. He has over 30 years experience working with various CAD and PLM systems.