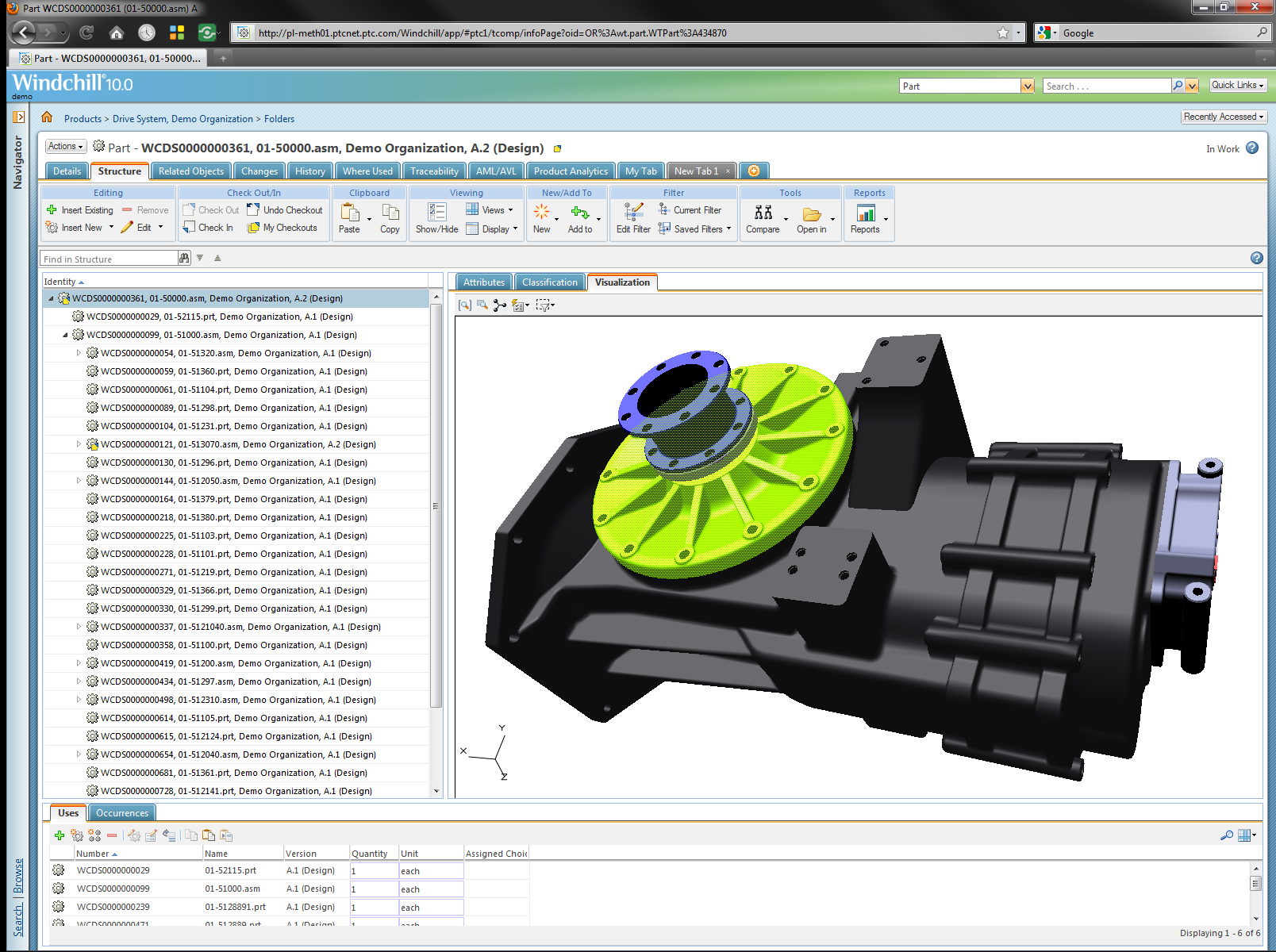 A major part of Product Lifecycle Management (PLM) is Product Data Management (PDM). As an essential part of any product design effort, a PDM system needs to securely store your 3D CAD files and other data while providing a solution for easy access. You need to be able to share your designs with both internal employees and those working in the field allowing them to collaborate on products and projects while controls are in place for lost data and version changes. 3 HTi offers at least five ways to support this process and tame even the most complex product design efforts.
Windchill ProjectLink
The Windchill ProjectLink system creates a virtual workspace for product development keeping all teams on track with the correct design version and latest product information. The module is web-based allowing access from the field. The system integrates with Microsoft Office in addition to electrical and mechanical CAD programs.
ProjectLink acts as your product development coordinator while allowing real-time views of current data for parts, plans and documentation. An added benefit is process automation for Six Sigma and other quality management methods.
Windchill PDMLink
PDMLink allows authorized users to quickly access the exact data they need for any project. This module provides one central database for all development data. The web-based repository allows access to electrical, mechanical and software data for internal and field employees. This module prevents errors by controlling version changes while allowing full collaboration between all product teams. The security of PDM Link helps protect your company's intellectual property.
Windchill PDM Essentials
Great PDM means easy access to the correct CAD files. Authorized users can find the data they need without sorting through countless outdated versions. PDM Essentials gives your company that access, while allowing for control over version changes and lost data. It includes an embedded 3-D view with the ability for users without CAD access to add their own comments.
The Essentials module is easy to install and configure allowing you to concentrate your resources on your product development. PDM Essentials is also perfect for smaller companies while providing a solid foundation for future growth since it runs on the same Windchill Platform as PDM Link.
Windchill PartsLink
PartsLink is an option to add to Windchill PDMLink. Managing parts prevents expensive duplication of similar or identical parts already in inventory. Managing the part numbering system eliminates the possibility of two or more different parts using the same number. This module will save wasted time and money on redundant parts while reducing excess inventory.
Windchill Supplier Management
Supplier Management helps you keep your preferred supplier data organized and accessible. This solution will allow you to store the information you need to know which suppliers deliver on schedule and which suppliers offer the best pricing. You can also track obsolete parts or suppliers to prevent reuse in new product designs. As a web-based system, both internal and field engineers can get access to the information needed to choose design parts that meet desired time and cost schedules.
Using the right PDM system will allow your engineers to collaborate on designs and design changes while tracking versions. Less time is wasted locating and organizing the parts and systems needed for production. Then, your business can go on to save even more time and money with the ability to easily reuse product designs and components for use in future projects.
As a provider of complete Product Life Cycle Management (PLM) solutions, 3 HTi becomes your partner to help solve your company's unique problems in product development and manufacturing with measurable results. 3 HTi has the most impressive success rate of any PTC reseller in the area of Windchill Implementation. For more information about the ways 3 HTi can improve product data management for your product development team, please contact us.